Editorial Reviews: Hollywood via Orchard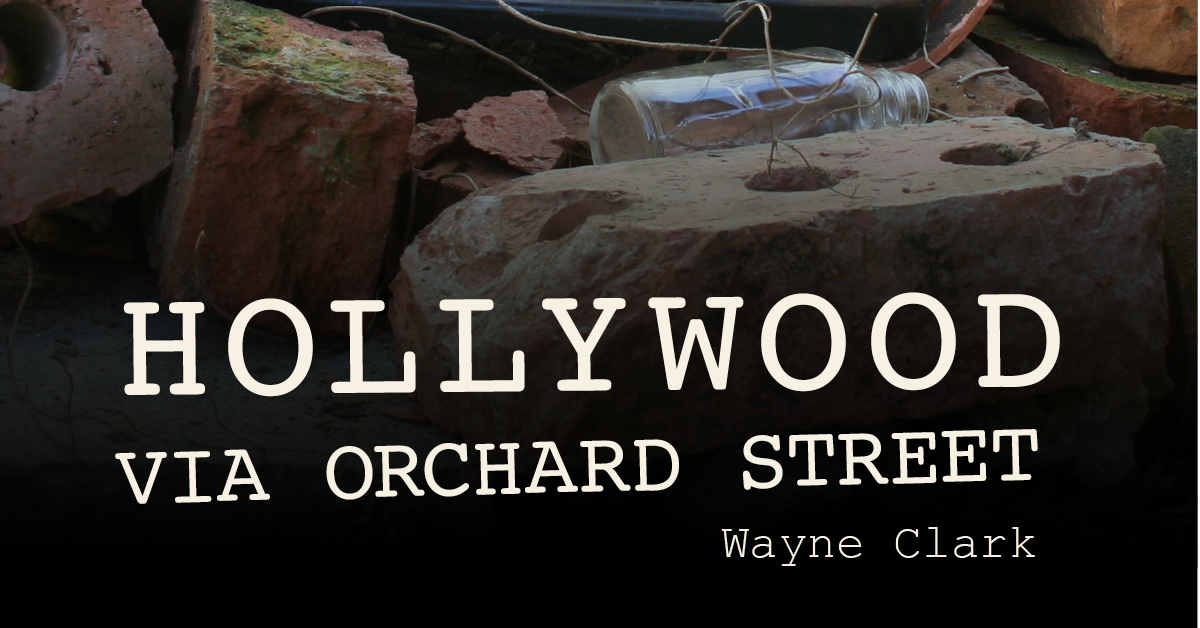 Indie Reader
August 24, 2018 by IR Staff
Verdict: Wayne Clark does an amazing job of conjuring the feel of Golden Age films in HOLLYWOOD VIA ORCHARD STREET. Like an old movie day on the couch, there's a quaint comfort when the real world waits outside and a breezy tale of dangerous guys and delicate dolls sweeps you away.
HOLLYWOOD VIA ORCHARD STREET is the story of an aspiring young writer who finds himself mixed up with mob bosses in Depression-era New York City. The novel feels like a film produced during that time, right down to the OG slang and love-at-first-sight love story.
Charles Czerny desperately wants to break out of his humble abode on Orchard Street on New York City's Lower East Side. Once the controlling old ladies in his life die off, Charlie goes from newspaper seller to star journalist, with the help of an Irish mob boss. But when the boss's girlfriend becomes a "damsel in distress," Charlie seeks protection from the Chinese mob. Charlie lacks the confidence to compete in the high-profile, hard-knock world of Broadway scandals and gangster bullets, so he creates a tough, street-savvy alter ego named Bulldog. But, despite a series of unbelievably lucky breaks, Charlie's life isn't complete until he unites Bulldog and Charlie as one.
Wayne Clark does an amazing job of conjuring the feel of Golden Age films. Charlie idolizes James Cagney and Walter Winchell, and the ghosts of Tinseltown permeate this novel. But the problem with some old movies is a lack of realism, thin characters, and improbable plot twists. HOLLYWOOD VIA ORCHARD STREET suffers from some of the same problems. An unfortunately named sidekick, "Thugsy", is supposed to be mean mob muscle, but we never see him as more than doughy comic relief. The big, bad mob boss is foiled by a bad night at the casino and a long walk home, then placated with a "replacement dame" that both diminishes the role of Charlie's love interest, Shawny Vox, and the female gender as a whole. And why does Charlie hate his mother so much?
Don't worry about it. HOLLYWOOD VIA ORCHARD STREET doesn't get deep. Wayne Clark does an amazing job of conjuring the feel of Golden Age films and, like an old movie day on the couch, there's a quaint comfort when the real world waits outside and a breezy tale of dangerous guys and delicate dolls sweeps you away.
~Rob Errera for IndieReader
---
Readers' Favorite — 5 Stars
Reviewed by Jack Magnus for Readers' Favorite on July 15, 2018
Hollywood via Orchard Street is an historical fiction novel written by Wayne Clark. It all started when Charles Czerny found that typewriter in the refuse left by the firefighters after a fire on Mangin Street. Just the fact that it was found on Mangin Street had a special significance for him. He seemed to recall stories that his dad had lived there or something like that. Charles had never known his dad; it had always been just him and his mom, except for those years when his mom had a gentleman friend whom he was instructed to call Uncle. This typewriter seemed magical in its promise. It was an Underwood Model 2, and his careful ministrations with a soft cloth made the instrument shine and seem as good as new. Charles Czerny knew he was destined to go places. It didn't matter that the country was in the midst of a deep and enduring depression, or that his mother made him leave school after seventh grade to support her. Charles had the abiding conviction that the future was what you made it, and he saw an illustrious future indeed for himself. 
As I read Wayne Clark's marvelous historical fiction novel, Hollywood via Orchard Street, I couldn't help but wonder how much more Charles Czerny could do with all the modern conveniences of the internet at his fingertips, but then again, he does quite spectacularly with what's available in his day and at his age. Clark's coming of age tale is rich with the nuances and culture of Orchard Street and the people who lived in the Lower East Side during the Great Depression. I loved following as Charles gets involved in the newspaper trade and the trade wars between rival publishers, and marveled at the classic feel of this story about determination and belief in oneself. Clark's plot is a grand one, and his characters are larger than life. Hollywood via Orchard Street is most highly recommended.
---
Kirkus Reviews
Aug. 14, 2018
In this coming-of-age novel, a young man tries to attain his dreams through luck and pluck.
In Clark's Depression-era tale, Charles Czerny has led a sheltered life. Now in his 20s, he shares a small, dingy apartment on the Lower East Side with his mother, who has become increasingly distant following the early death of her lover, the man Charles called Uncle. The only thing Charles inherited from Uncle was his truck, Blue. Charles uses Blue to deliver bundles of newspapers to newsboys, but he also aspires to become a reporter someday. The naive Charles is soon also earning extra money by doing special jobs for the Irish mob, which protects the papers he delivers. Charles, who uses the nom de plume Bulldog, then gets in over his head by taking part in a convoluted plot to murder a theater critic who gave a bad review to a musical that starred the mob boss' girlfriend. Worse yet, he falls for the starlet. To save her and himself from that kingpin, Charles recruits a rival gang, a Chinese tong, to intercede on their behalf. Will Charles make enough right moves to end up getting the girl and the career he craves? In this story that feels like a tale culled from the golden age of movies, Clark has created a real Horatio Alger–type character in Charles. What Charles lacks in book learning, he makes up for by reading and listening to those in the know. He can also read people. In other words, Charles makes his own luck, albeit sometimes by accident. He is a protagonist readers can root for. The other well-rounded characters are the leaders of the Chinese tong; the players attached to the Irish mob are more one-dimensional. Clark has paced his narrative well, slow enough that Charles' relationships can grow organically yet not too poky. The novel's atmosphere also gives readers a good feel for a difficult time to grow up in New York City. The result is a colorful snapshot of one man's mission to pursue his ambitions, whatever the obstacles.
An enjoyable tale that traces the unlikely rise of a goodhearted man surviving humble beginnings.
---
Have a customer review? We love customer reviews too! Please feel welcome to review Hollywood via Orchard Street on Amazon, Goodreads, or via social media.