Editorial Reviews: he & She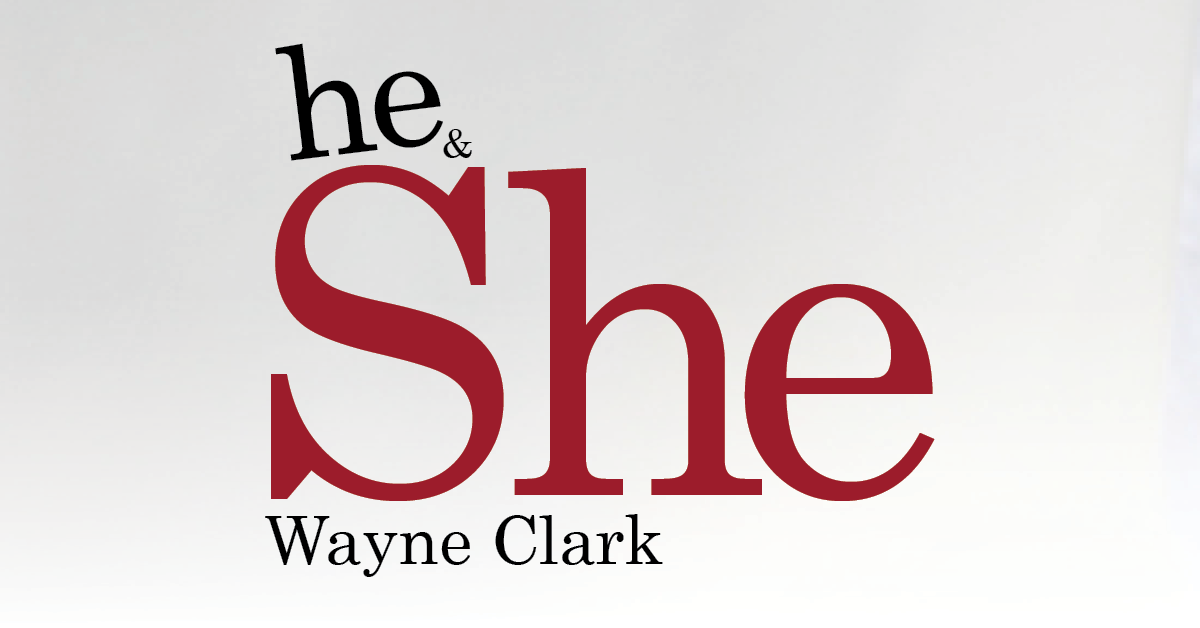 Review From IndieReader | 5 stars
Reviewed April 17, 2015
A man of meager ambition and accomplishment experiences a midlife crisis that launches him into the world of S&M.
Kit Cayman is 49. He lives in a small, rent-controlled apartment in Chelsea, paying his bills by completing the inconsistent freelance translation jobs that trickle in from his shrinking list of clients. He has a girlfriend in the Bronx, though the relationship hasn't progressed much in ten years and he fears they both continue it merely out of habit. His happiest moments are jamming on his saxophone with his upstairs neighbor LeBron; when LeBron convinces Kit to play a gig out with LeBron's band, Kit gets a rare taste of purpose. More than the music, Kit is enthralled by a cute, purple-haired woman who accompanies him home. Their night together teaches Kit something he never realized about himself: he might be a submissive. The exchange haunts his thoughts as he crosses over the threshold of fifty. Soon he is searching the Internet for the type of woman who can pull him out of his lifetime's habit of inertia and indecision: "A dominatrix. A decision-maker by definition, he thought. The buck stops there. Who better to shove him over the cliff?" Kit descends quickly into the hitherto unknown world of BDSM, where his long-numb sensations of pleasure, pain, fear, and excitement are reawakened, and his renewed thirst for fulfillment threatens to destroy the humble life he's built for himself.
Dommes aside, this is not a work of erotica. Though sex and romance are discussed, the subject of this book is the loneliness that lives inside Kit and his attempts to banish it from himself. The prose is wonderfully conversational, working subtle comprehensive magic to pull the reader forward through the story without calling much attention to itself. The nuances of emotion (particularly dispassionate emotion) are hard to bring to life on the page, yet Clark manages to make them very engaging. He writes Kit's interiority with an expertise that creates a surprising sense of universality in a story that, at least in the abstract, should be a peculiar taste. Readers will feel the needs of Kit even if they do not feel those same needs within themselves. Clark avoids melodrama by placing the tragic outcome right at the beginning: we are not asked to read to find out what happens to Kit, but to find out why. There are multiple ways to view success in life, and Kit's journey through sexuality is not about preservation of the body, but of the soul. In the book's prologue, a character observes that "at the end of life our sexuality outlives the rest. Memories, meaning, love, they vanish long before." The remainder of the novel asks the reader to weigh the validity of that sentiment.
A remarkable investigation of a man attempting to save himself from stagnation.
5 stars
~IndieReader
Read the review on the IndieReader site at http://goo.gl/MDLjCp
Review From Red City
(Reviewed Dec. 28, 2013)
he & She by Wayne Clark
This novel, written by Wayne Clark, is about a man on the edge. His advancing age, his insecurities about himself ,and his sexual desires all compound together to cause him to act on an urge that he previously wouldn't have imagined himself capable of going through with. Past the age of fifty, the main character is a translator who no longer takes joy in adapting written works into different languages, just as he no longer finds any happiness in his hobby as an amateur musician. As his world around him darkens, he explores remote websites on the Internet, eventually finding an image of a startlingly beautiful woman who may be the solution to his woes, even if that means she will have to dominate him in order to give his life a new meaning. Coming to terms with this new world of sex and desire, he has to contemplate if he has wanted to be in this kind of situation all along, as the dominatrix begins taking control of him, as 'He & She' embark on a dangerous ride.
This novel succeeds in getting the reader to sympathize with the main character, even though his name is barely ever mentioned on the page. Clark uses the narrative to explore how diverse and intricate sexuality can be. The BDSM scenes are raw and realistic without being too much for newcomers who haven't read erotic books like this before. The story builds upon itself aggressively, never veering away from the gritty conclusion that barrels ahead as the final pages come to an end. All in all, this is a delectable novel about a man exploring his unknown sexual fantasies at the price of possibly losing his true self along the way.
To purchase a copy of He & She, click here to find it on Amazon.
Review From BlueInk Review
(Reviewed: November 2013)
Readers could be forgiven for judging he & She by its cover. The lowercase "h" and photograph of a flogger clearly indicate that this is a story about dominance and submission in which the male is likely not in charge. While that's true, this novel is noteworthy for being less a sexual romp than a nuanced look at desire and aging, and a stylish piece of literary fiction.
Kit Cayman, also called K., faces midlife with limited prospects. His work as a freelance translator and amateur musician gives him modest pleasure but no prestige or financial security. Then one day, he's transfixed by the sight of a woman online who turns out to be a professional "domme," or dominatrix. Long-suppressed desires surface, and K. finds that as he spends more time with his "Egyptian Princess," his life is not as circumscribed as he'd previously thought. But their relationship is transaction-based, and K. is stymied when he wants more, but the object of his desire pulls away.
Author Wayne Clark brings K. to poignant life in this story. The protagonist drinks too much, then sobers up — and brings a similar extremism to his personal and work lives. When things are in a holding pattern, he overworks, translating faster than his job requires. "When life was flat he built pretend mountains to climb. He loved freelancing on those days when he made it to the top."
Clark's perceptive descriptions of New York and Montreal and jazz and nightclub cultures, as well as his nonjudgmental view of BDSM, make he & She intellectually engaging throughout. It's frankly sexual, but not erotic. A finely drawn portrait of desire in its fall and winter seasons.
Visit BlueInk.
Kelly Smith Reviews
It's a great psychological story with a deviant undertone… it will make you think. Excellent. 5 stars
http://kellysmithreviews.blogspot.ca/search?q=wayne+clark
Readers' Favorite – by Faridah Nassozi
…Wayne Clark delivered a must-read novel by proficiently building Kit Cayman's character (…) to show how the different events affected his life, leading him to a different life path and ending in a very surprising climax. Wayne Clark crafted an emotional story of a man in emotional turmoil and the level of skill with which the story is written made it a captivating read. It kept me engrossed up to the end. (5 stars)