Customer Reviews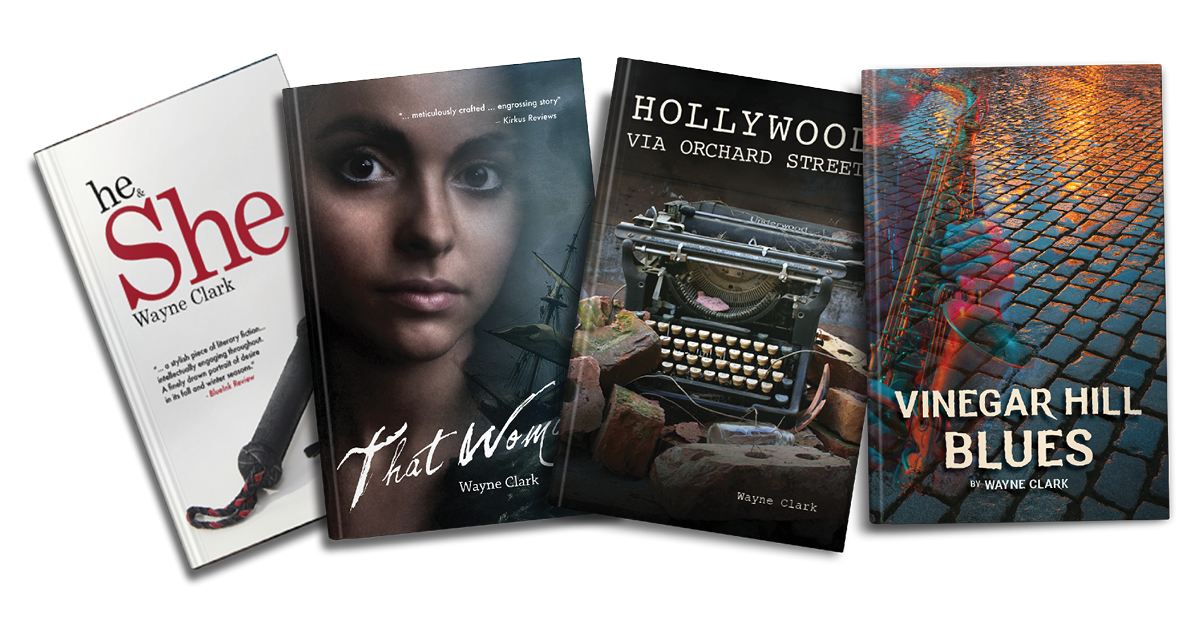 We love to hear what you think of Wayne Clark's books!
Feel welcome to post on Amazon, Goodreads, or social media – or send Wayne a message.
Here's what some other people have had to say about Wayne's novels:
VHB Customer Reviews Amazon
Reviewed in the United States on May 3, 2022
Vinegar Hill Blues by Wayne Clark tells the story of a musician who comes back home from WWII just to know his mother has died and that everything has changed. He needs money so music is not the answer for him but instead he thinks of becoming a thief.
The story is a bit long with many chapters but I didn't feel it was heavy. I liked the characters and the development of the plot. Although I don't share the thoughts of the main character, I believe many people when desperate think about stealing as a way of surviving – but there's always another way.
I liked the story because it was entertaining. I recommend it.
George
Reviewed in the United States on April 28, 2022
Vinegar Hill Blues centers around Bobby, a military vet turned aspiring musician. This is a very touching story about reaching your dreams; some people experience hardships in life and come out strong. I see that Bobby has developed a will to do anything to get to his goal, which is both admirable and dangerous for the other means is doing some bad stuff. It is a little sad because this can simply be the story of these vets that we see on the streets, imagining if their only way to live is going on a life of crime. From protecting this country to slightly destroying it is a complete 360 for this character. It is still a good book, fast paced and with a great plot development. The author did include some bits and pieces of American history in it which makes it more engaging.
Brenda
Reviewed in the United States on April 22, 2022
Vinegar Hills Blues is an unusual crime thriller that drew me in from the first page when I realized that the main character, Bobby Stazilovsky, has to restart his life. Even though what happened in this novel is far removed from my own life, and I am not a criminal, I really identified with Bobby's perspective in the notion that we are all trying to make meaning of our lives after tragedies or troubles, and we all want to succeed.
Reviewed in the United States on April 22, 2022
This was written in a way where I felt transported to the post-world war II era. The imagery, description, and conversations among characters made it clear how the protagonist had been affected by the war. This crime thriller is full of interesting themes that also touch upon the complexities and conflicts within life. It shows us how the main character has to encounter difficult situations and adjust accordingly. It sheds light on his inner struggle, this is something relatable for readers. The character is written in a way where there is more than one side to him. His realistic and raw way of looking at the world fits perfectly within the plot, and it might be something that sets this book apart from others.
Edward B. Crutchley
4.0 out of 5 stars
Great fun
Reviewed in the United Kingdom on March 15, 2022
Bobby Stazilovsky, a saxophone player, returns injured from war service to find his Brooklyn family home pulled down and his mother no longer alive. Short on cash, he lives close to the edge, getting work wherever he can and whatever it is while skating on increasingly thin ice. He digs up dubious old friends living as precariously as himself – he is loyal to his friends. He makes contact with the love of his life, Amanda, a musician who is also into bebop and also struggling to get recognised, but who would never stand for some of what he has been getting into. Author Wayne Clark maintains a fast, no-frills pace and atmosphere as one challenge follows another, and the reader wonders where Bobby will put his foot wrong next. I found it great fun.
'In times of tragedy there is often opportunity' – a new winning novel from Wayne Clark
Reviewed in Canada on October 28, 2021
Canadian author Wayne Clark has been around – as a journalist, a reporter, and editor, a freelance writer and translator, a copywriter, and an astute observer of life in all its permutations. He travels (all over Canada, across the pond to Germany and Holland, and down in the third American level of Mexico), he sees, probably fantasizes a lot. Stir that pot and out comes a novelist who takes risks and makes them pan out for him. His books to date – HE & SHE, THAT WOMAN, HOLLYWOOD VIA ORCHARD STREET and now VINEGAR HILL BLUES. Having read all of his novels, this reader can comfortably recommend Wayne's artistic achievements!

A singular trait – that of choosing the cover art for his books – instantly seduces readers: stare closely at the cover of this book and observe the saxophone player emerge. And the opening words follow that impetus to explore – 'It was the damnedest thing. Bobby Stazilovsky was on a bus, not an army bus but a Brooklyn bus. He was the only one in uniform. It wasn't crowded. That was good because he could stretch his still aching right leg into the aisle. When the bus stopped at Jay Street, Bobby propelled himself to the back door with his crutch. "Can I give you a hand, soldier?" A middle-aged man with a pockmarked face inserted his shoulder under Bobby's right one. He became a human crutch. A few seconds later Booby's feet stood on a piece of Brooklyn pavement. Bobby thanked the man. The man pointed his finger against Bobby's chest and said, "Brooklyn thanks you!" And there Bobby was, standing on a street in his hometown…' A mood is set, in 1943, one reflecting another generation's respect for returning soldiers in an introduction to the primary character.

And as is his apparent style, he outlines his story in a well-scripted synopsis; 'A wounded musician shipped home from WWII finds his mother has died and his old Brooklyn neighborhood obliterated by a housing project. Always poor, he now wants to succeed as a jazz musician but he also wants money. He thinks the only path open to him is to rejoin his prewar friends and become a thief. One of those buddies, now a cop, makes the decision easy.'

Clark succeeds in this territory better than other authors in this genre because of the style with which he writes. He invites us into dark places but keeps the focus on the frailty and durability of our humanity. There is much to be learned here and in the quality of fine prose and drama. Wayne Clark offers another solid novel. Grady Harp, October 21
Marcia
5.0 out of 5 stars
Highly addictive writing
Reviewed in the United States on October 30, 2021
Verified Purchase
Vinegar Hill Blues, written by Wayne Clark, is an engaging book that will make you turn the pages, in order to find out what happens to Bobby as he comes home to Brookly, wounded from Algiers, during WWII. I felt immersed in the story, a life that is not simply black and white, and the music everywhere. It offers a solid pace, multi-layered characters, good and believable dialogues, and a lot of work put into details. A really interesting book that will stay with you after you read the last page.
Phil Bolos
5.0 out of 5 stars
Good historical fiction
Reviewed in the United States on October 30, 2021
Vinegar Hill Blues by Wayne Clark is a fantastic story about a soldier who comes back home only to find a new type of war waiting for him. Bobby enlisted in the military as a musician and was quickly deployed. While he did not see the front, he still saw action. Playing in the town square in Tunisia his band along with other soldiers was strafed by German fighter planes. Bobby survived but was injured in the brief encounter. A month later and he was back home in Brooklyn and looking to start his life over as a legitimate musician in the city that he loves. But he soon finds that things have changed while he was gone and getting his life started may be more challenging than he thought. That is until an old friend introduces him to a lucrative life of crime.
This was a very well written story that moves along at a fast pace. The characters are interesting, and the narrative seems believable given the historic background. Fans of historical fiction will enjoy this story because of how realistic the story feels.
Reviewed in Canada on November 2, 2021
Verified Purchase
As an avid reader of the author's first three books, it was with great anticipation that I started to read "Vinegar Hill Blues". I was not disappointed. The main character, Bobby Stazilovsky, returns home wounded from WW2 and he brings with him more baggage than what was in his army kit. He grew poor on the streets of Brooklyn in a neighborhood that no longer exists. He discovers that his mother passed away during his time overseas and he comes back to his former surroundings with only memories.

As he learns to adapt to his new life on a small Army pension, his driving passion is to make a living as a professional musician and to earn more money than he ever dreamed of while holding on the longshot possibility of making a life with his lifelong friend Amanda. With these lofty goals ahead of him, he strikes out uncertainly on a path that would see him struggle to meet these goals.

The author does a superb job of integrating all of his characters and their own stories into the overarching story of Bobby and his fight to make himself into someone that people would respect. Through many situations where Bobby succeeded as well as failed, he kept on striving to attain his musical and monetary aspirations. Twists and turns in the plot weave a storyline that will make the reader want to turn the page quickly to see what will happen next.
­­­­­­­­­­­­­­­­-_______________________________________________________________
Reviewed in the United States on November 3, 2021
"Vinegar Hill Blues" is a compelling story written by Wayne Clark. In the first scene we meet Bobby Stazilovsky, a musician soldier who returns home after being wounded in World War II. Returning to his homeland is not easy now that his mother died, but he must take charge of his life. To achieve his mission, he decides to meet his pre-war friends and become a thief. Can he become the musician he always dreamed of?
I think this reading is a page turner. I never got so hooked on a novel, as I felt with this book. I found the plot super compelling and the descriptions of the scenes are, in my opinion, descriptive and detailed.
Reviewed in the United States on November 5, 2021
Verified Purchase
Vinegar Hills Blues is an out-of-the-ordinary crime thriller that has hooked me right from the start when I learned the main protagonist, Bobby Stazilovsky, has to start his life all over again. Even though what happens in this story is way too different from my personal life, I am neither a thief nor a criminal, I felt identified by Bobby's way of looking at things in the sense that we are all the time trying to make sense of our lives after misfortunes or problems and we all want, after all, to be successful. He has to start his life over after coming back from war, however, this new beginning is not easy as he realizes that what he used to have is no longer there. He has to take difficult decisions.
This is a tense and fantastically gripping read. The characters are compelling and life-like and the author has made use of an excellent writing style to craft a satisfying narrative able to make readers feel as if they were right there next to Bobby.
___________________________________________________________________________________
Reviewed in the United States on November 5, 2021
Verified Purchase
"Vinegar Hill Blues" written by Wayne Clark is a compelling and inspiring story of a man who has lived the terrible events of WWII and has returned to a changed home to pursue his dream of being a musician. Blues is his passion but will his circumstances allow him to achieve his objectives? The narration is emotionally powerful and it is complemented perfectly with detailed descriptions of places and historical events. The novel gives readers a unique and wider perspective of the protagonists' lives that will capture their attention from the very beginning. The construction of the characters is exceptional, they are imbued with convincing personal traits and emotions that make them very realistic and interesting.
I really liked this book and I highly recommend it. I hope I get to read more from this author.