That Woman Reviews on Amazon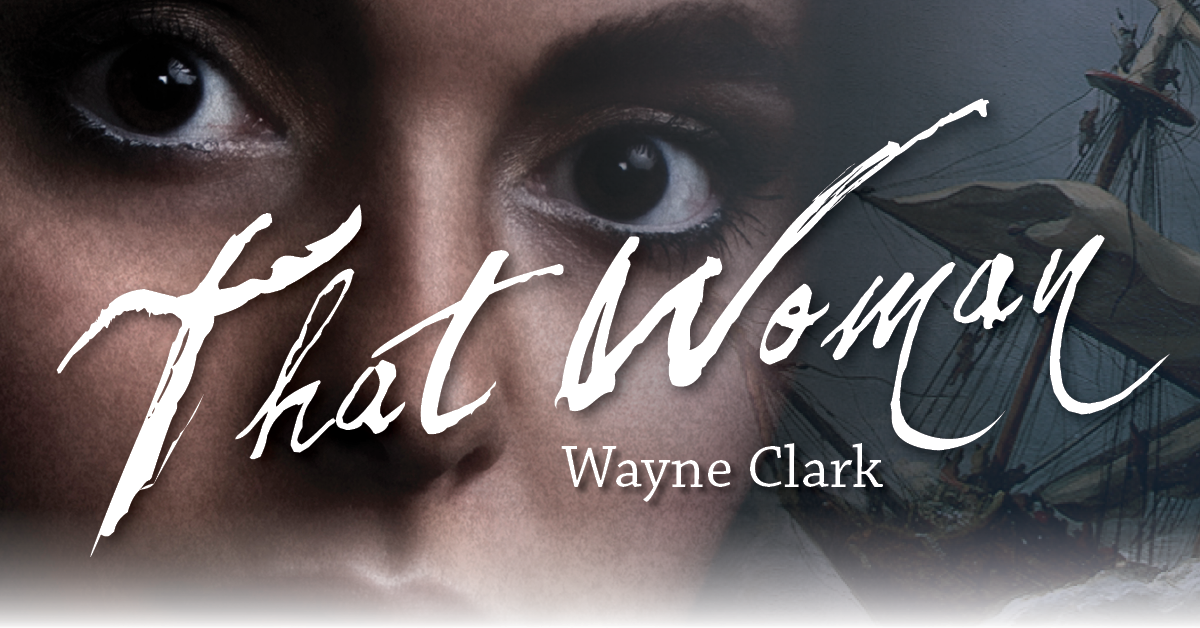 Well paced exciting tale
May 3, 2018 on Amazon.com | 5.0 out of 5 stars
By Robin Perron
Format: Kindle Edition | Verified Purchase
That Woman Beating the Odds by Wayne Clark is a historical novel that could easily be translated to be told in any setting and any time period. The reason that I say this is because this story is basically one of revenge. This story is about a strong female lead named Sarah and her brother who are sold into slavery. While she manages to force her way into freedom he keeps chasing her in order to get revenge. You will not get bored reading this book as the writing is superb and the pacing is spot on it. I would read another book by Clark in a heart beat his writing is that good.
---
Amazing story of an intelligent and resilient young woman in colonial New York
April 8, 2018 on Amazon.com | 5.0 out of 5 stars
By Tara Malone
Format: Kindle Edition | Verified Purchase
This historical novel features a strong and courageous heroine who struggles to make a living for herself and succeed in the face of incredible obstacles. Sarah Da Silva and her brother Jacob are the children of a Portuguese-French Jewish merchant who becomes involved in some shady business dealings. Things don't go as planned, and Sarah and Jacob are kidnapped and sold into indentured servitude in New York.
They survive a harrowing sea voyage, and Sarah is forced into the service of a brutal wealthy merchant. This merchant sexually abuses Sarah for nearly three years, until she holds a knife to his throat and intimidates him into setting her free, giving her a home, and inventory so she can start a business.
Though she has some success, reunites with Jacob, and establishes close friendships, the merchant continues to threaten her. Sarah is an amazing young woman who fights for her rights, stands up to injustice, and becomes a successful entrepreneur, rare for a woman of her time. The book also covers a period of colonial American history that I knew little about. If you enjoy historical novels and intelligent, resourceful and resilient women, you will love this book.
---
Desperate Times Call for Desperate Measures
June 26, 2017, on Amazon.com | 4.0 out of 5 stars
By Brian Aird
Format: Kindle Edition Verified Purchase
That Woman: Beating the Odds in Colonial New York by Wayne Clark is a fictional account of a talented brother and sister that utilizes a well painted New York City colonial backdrop. It is obvious that the novel has been extremely well researched given the vivid historical perspective.
The young brother and sister, following a brief introduction to their family life and pressures facing their father, soon find themselves at the mercy of thugs. With knives held to their throats they are thrown aboard a ship headed to New York where they will be sold in order to payoff the expenses of their voyage.
However, this family unit is not the typical young people of the time. They have been taught well by their savvy businessman father, plus they have bankable talents that will increase their value in the new world. These talents of being able to successfully forge documents and rewrite contracts coupled with a strong work ethic, an eye for perfection and their tenacity will serve them well.
Through a series of personal, tragic, business and repulsive hardships they show their mettle and succeed. With the help of new found friends, a handsome Canadian sea captain and her own zeal and tenacity, this very strong woman becomes a powerful business owner in America and an inspiration to all those around her.
That Woman: Beating the Odds in Colonial New York by Wayne Clark is well written, descriptive, and historical narrative that places the reader right on the docks of New York along with other ports of call. One can almost hear the sounds emanating from the tavern, smelling odors from the city and hearing the waves of the Atlantic Ocean.
---
A historical story of slavery and a passion to escape
June 24, 2017 on Amazon.com | 5.0 out of 5 stars
By Jimmy rayon
Format: Kindle Edition Verified Purchase
This is a great historical story. The history is accurate and the story and characters are incredible. The story starts with a brother and sister who are kidnapped and sold into slavery. Sarah decides she will not continue to be a slave to the evil merchant who bought her. With knife in hand, she bargains for her freedom and begins a journey with the merchant seeking revenge. Great flow to the story and development of Sarah and Jacob. The story pulls the reader in and has you routing for these teens throughout the journey. Great novel and the author is an amazing story teller. Would recommend to anyone
---
This novel has it all
June 14, 2017 on Amazon.com | 5 out of 5 stars
By Sanjin
Format: Kindle Edition | Verified Purchase
This novel has it all, great plot, excellent pacing, incredible characters and fantastic writing style. Maybe I am a bit generous with praises, but I really loved it.
This is a historical novel, but it doesn't depend heavily on the time period it is set in – this story could, with minor changes, be told anywhere and in any time period. That is the case because it is basically a revenge story, Sarah and her brother are sold as slaves, but she manages to force her freedom out of the evil merchant, and his chase after revenge begins. Pacing in this novel is excellent, it is always interesting and really hard to put down. Sarah is a strong female character, real presence, a self-sufficient character that is realistic, brave, lovable, all at the same time.
What also sets this novel apart from many historical novels is writing – it is truly a joy to read this book, sentences are expertly crafted, everything flows really well, the author knows his way with words.
I just don't see a major flaw in this novel. I could nitpick and find something for sure if I wanted to, but what is the point? I enjoyed this novel and I can recommend it to literally anyone.
---
Excellent escapism in an immersive setting
June 15, 2017 on Amazon.com | 4.0 out of 5 stars
By David Styles
Format: Kindle Edition | Verified Purchase
After an unpromising start, I came to really enjoy this book. By an unpromising start, I mean the page-long scene-setting first chapter that finishes with not so much a cliffhanger — we are not yet invested enough in anybody to feel tension — as a classic clickbait line that robbed the moment of any seriousness it could have had:
"Throughout their lives Sarah and Jacob came to believe they were never truly ready for what happened next."
Once one is past that, though, the book is quickly engaging, and I was impressed with Clark's writing skill. Scenes were vivid without being overly descriptive, dialogue was credible, history accurate, the the best of my knowledge anyway (it's not a period regards which I can claim any personal expertise).
Since the book is well-written and kept me entertained from almost-start to almost-finished (the first and last few pages didn't captivate me), I'd like to give this five stars, but must drop a star for two things:
One is that our protagonist is an unmoderated Mary-Sue; she can read and write perfectly in an array of languages, charm anyone she meets of any age, gender, or background, is not afraid of anyone ever, literally takes what amounts to a mob boss down with a knife to his neck — I thought it was a metaphor when I read the blurb — strategises like a general, commands the immediate respect of everyone from slaves to aristocrats despite being a poor jewess in a racist and sexist time, and so forth — simply put, she has no flaws. Not one. Add to this that most of the supporting characters are caricatures, and the ones that aren't are quite empty of character, and I can't give the book five stars.
The other thing perhaps stems from Sarah's Mary-Sueness; I believe the trope name is "God Mode Sue", that is to say that not only is Sarah flawless and skilled beyond reason, she's also lucky to the point of absurdity. Beyond two incidents — her initial kidnap and later, the arson of her warehouse — absolutely everything that could go right, went right. There were so very many opportunities for calamity, but every possible source of tension was ignored in favour of the stars aligning perfectly every time to get exactly the result expected, if not better.
The ending left me a touch unfulfilled; not only did it seem a quick wrap-up of all loose ends, it missed one; I had spent the book wondering if their father had sold them into indentures (he went to the docks with them to find a deal in his desperation; they are then kidnapped and taken away to be sold), and this was never addressed, or even questioned by the usually genius-level thinker Sarah.
However! As I say, the book is well-written and give or take the first and last few pages, I enjoyed the ride very much along the way, so I'd certainly recommend the book to anyone in search of the escapism such a novel can provide.
---
A very compelling read
June 8, 2017 on Amazon.com | 4 stars out of 5
By Michelle Williams
Format: Kindle Edition | Verified Purchase
In the opening to "That Woman: Beating the odds in colonial New York" the writer gives us a heads up to the deep twists and turns that this book would take. He writes of the father, Gabriel Da Silva stating to his teen age children – "I am preparing you for life." He said that many times. In the end, he failed entirely. Throughout their lives Sarah and Jacob came to believe they were never truly ready for what happened next." For what comes next in the lives of these poor kids will make you very emotional while reading.
They are kidnapped and forced onto a ship and then have to work to "pay" for their voyage and then forced into indenture. They suffer but retain dignity and hope. Sarah, the younger one, shows such courage and strength as she does all that she can to be reunited with her family. A very compelling read.
---
She is smart, engaging
June 7, 2017, on Amazon.com | 4 out of 5 stars
By Anishella
Format: Paperback
The story really took off for me when Sarah got separated from her brother after the two were sold into indentureship in New York. Sarah is most definitely my kind of heroine. She is smart, engaging, innocent, kind, tenacious, direct and passionate. The author captures her pain and despair as well as her courage and hope. While the focus is naturally on Sarah (That Woman of the title), I must add that I appreciated every step I took with the other characters. The detailed descriptions of historical places were a bonus. I liked everything about this story.
---
Enjoyed it
June 6, 2017 on Amazon.com | 4.0 out of 5 stars
By Maranda Russell
Format: Kindle Edition — Verified Purchase
Wayne Clark's historical adventure novel, "That Woman: Beating the odds in colonial New York", is an exciting, suspense-filled journey to another time and place, but one that still mirrors many of the troubles faced in our current world. From the very beginning, you will grow to feel compassion for Sarah and Jacob Da Silva and their father. Dealing with a loss like the death of your mother is certainly hard enough, but add to that the financial ruin of the family and even being sold into human trafficking, and you have a situation that really pulls at your heartstrings and makes you root for these characters and fear for them all at the same time. I felt the author did a good job of pacing the plot so that it moves along steadily, but stays exciting as well. The historical setting definitely added some nuance to the entire story and made it possible for the reader to enter another world for a little while, even if it is only the world of our own past. Historical fiction has always been one of my favorite genres, and this is a good addition to any readers' collection.
---
A strong tale of survival
May 13, 2017 on Amazon.com | 5.0 out of 5 stars
By Chelsey McQuitty
Format: Kindle Edition Verified purchase
There is no doubt about it, you are certain to fall in love with the character of Sarah as you read through her tragic story. Of course, even when the odds are against her, she finds the strength to stand up for her family. The strength in this character should be seen more often as women need more strong characters to follow and look up to.
The writing in this novel is incredible. You will feel as if you've gone back in time. I was especially impressed by the wonderful description of France, which made me feel as if I were joining the family on the docks.
The story itself is very compelling and will have you turning the pages. The plot is entirely unique and fun to read, but will get under your skin especially as tragedy strikes. This is a must read for anyone who loves historical fiction or a strong tale of a young woman trying to survive and do right by her family.
---
Good Historical Fiction
May 3, 2017 on Amazon.com | 4 stars
By V.E.
Format: Kindle Edition Verified Purchase
Wayne Clark writes an inspirational historical novel in his book, That Woman: Beating the odds in colonial New York. With a strong female protagonist Sarah, Clark quickly immerses the reader into France in the year 1748. Sarah, her father, and younger brother have gone down to the docks to finalize some business dealings her father has. Unfortunately, both children are soon kidnapped, and begin a harrowing journey. Bound for New York and sold as an indentured servant, Sarah must come to grips with her new reality, and do anything she can for her freedom and survival. Well written with a compelling and touching story, Clark gives Sarah's character the strength to forbear and survive dire circumstances. A highly readable, riveting, page-turner with a strong plot and exquisite use of language, this is a highly recommended historical fiction book that will entertain until the strong ending.
---
That Woman is an empowering story!
May 2, 2017 on Amazon.com | 5 stars
By Diane Mae Robinson
Multi-award winning children's author
Format: Kindle Edition
Sarah Da Silva and her brother Jacob are teenagers growing up in Bordeaux, France in 1948. On the docks of France, they have been learning the merchant business and helping their merchant father. That is, until they are kidnapped and forced to sail to New York as indentured labour. In New York, they are separated and sold to the highest bidders. There, they must work off their indentures to pay for their passages. The sister and brother don't see each other again for three years.
Against all the odds in colonial New York, Sarah overcomes the hardships set upon her by her evil master and, after gaining her freedom, she prevails through many of her own hardships. Sarah is a strong woman and thrives through her sheer willpower, perseverance, and wits.
Sarah and Jacob never see their father or France again, but their lives in colonial New York creates lasting friendships and hard-won personal successes.
Author Wayne Clark has mastered the art of writing an impressive and empowering story in That Woman. The story has a multitude of intriguing characters, it's riveting, a page turner, and wonderfully well written.
---
"A cargo, my cargo, has been seized by the British on the way to Ireland."
May 2, 2017 on Amazon.com | 5 stars
By Grady Harp
Hall of Fame Top 100 Reviewer Vine Voice
Format: Kindle Edition Verified Purchase
Canadian author Wayne Clark has been around – as a journalist, a reporter, and editor, a freelance writer and translator, a copywriter, and an astute observer of life in all its permutations. He travels (all over Canada, across the pond to Germany and Holland, and down in the third American level of Mexico), he sees, probably fantasizes a lot. Stir that pot and out comes a novelist who takes risks and makes them pan out for him. he & She was his first published complete novel – a taste of what he can create – and now with THAT WOMAN we the reading public are in for an adventurous ride.
To open this book of historical fiction Wayne once again suggests without an overture, choosing instead a brief prelude of the sensitivity of the story to come – At the end of the preface to this book Clark leaves us with the response of an attending nurse on our passing main character: `"Listen," Gabriel Da Silva told his two children, Sarah and Jacob, "listen well because I am preparing you for life." Over the years, Gabriel would sit his children down at a table in front of him and pass on what he called truths from his own life. He was a short man and always remained standing to add authority to his words. "I am preparing you for life." He said that many times. In the end, he failed entirely. Throughout their lives Sarah and Jacob came to believe they were never truly ready for what happened next.' He takes his story gradually, just like aging cells, and lets it settle in as an unexpectedly relaxed comfort zone. Chances, but safety nets. He does it well.
After this telling opening Wayne plunges us into France in the year 1748 – 'It was the highlight of Sarah's week when her father signaled for her and her older brother Jacob to prepare themselves to accompany him while he conducted business on the quays of Bordeaux. Preparation meant simply to spruce up, straighten up and, above all, look up. Show that you are someone, he would say. Since his wife died two years earlier, Gabriel Da Silva had placed his children on the pedestal his wife used to occupy. His taciturnity at home still made the days long, but Sarah had her brother to chatter with as they worked in the shop, its little office upstairs and the warehouse on the third floor. When Jacob teased her, which he would find any excuse to do, she laughed. Since their mother had died their father no longer barked out their names when he caught them playing word games while supposedly doing his accounts, or playing hide and seek in the store room when they were supposed to be finding space for a new consignment of goods. Mostly it was wine from their father's best client, a producer in Pessac, a short distance southwest of the city.
And as is his apparent style he outlines his story in a well-scripted synopsis; 'Illness suddenly deprives 17-year-old Sarah Da Silva and her older brother Jacob of a mother. Before Sarah has come to terms with that loss, her merchant father grows frail and increasingly desperate in the face of impending bankruptcy. On the rainy night their father scours the docks of Bordeaux, France, to make his final bid to save his family, his children are kidnapped and forced onto a ship bound for New York City where they'll be separated and sold to the highest bidder as indentured labor. Purchased by a grotesque merchant whose wealth, backed by a team of henchmen, allows him to dominate the chaotic East River docks, Sarah strikes back the only way she can. Vowing to never allow him to put his hands on her again, she presses a knife to his fat neck. She demands her freedom, a roof over her head and the means to start a business. Her leverage? Knowledge obtained on the voyage that would bring the big man to his knees forever. He yields to her demands but privately swears to become her worst nightmare.'
Clark succeeds in this territory better than other authors in this genre because of the style with which he writes. He invites us into dark places but keep the focus on the frailty and durability of our humanity. There is much to be learned here and in the quality of fine prose and drama Wayne Clark offers another solid novel.
---
Historical drama at its best
May 2, 2017 on Amazon.com | 4 stars
By Julius Zon
Format: Kindle Edition Verified Purchase
Wayne Clark does it again, delivering a story that is fascinating and compelling to read. If his novel "he and She" impressed me, then this novel "That Woman: Beating the odds in Colonial New York" goes one step further.
The story of Sarah, who is torn away from her family and kidnapped to be sold in New York, and her fight and determination to not let anyone or anything bring her down, is both captivating and enthralling. A truly inspirational story about self empowerment, survival, and fighting on against the odds.
Yes, this is a story or survival and entrapment, but the true strength of the book is in the writing. Wayne Clarke writes with elegant prose, and both the characters and story line draw you in. Most compelling and a strong recommend for anyone who loves historical drama. Poldark fans will simply adore and devour this book.
More reviews on Amazon,

Have a review to share? Feel welcome to post on Amazon, Goodreads, or social media. We'd love to hear what you think of That Woman!