'he & She,' By Author Wayne Clark, Named As One Of 55 Best Self-Published Books 2015 By IndieReader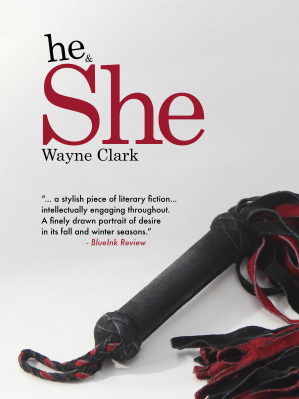 In 'he & She', Clark gives readers a penetrating look into midlife crisis. A searing vision of the future, foretelling only pain, regret and failure, compels one man to make a last-ditch attempt to feel truly alive one more time, even if it kills him. His journey takes him down paths riddled with obsession, fantasy, alcoholism and BDSM, all wrapped in a smothering cloak of loneliness and desperation. Yet an image he finds by accident on the Internet triggers a tiny glimmer of the hope that compels him to take just one more shot at life.
"One of my daughters put this honor in perspective. IndieReader's list of the best indie books of 2015 included 55 books, eight of them in my category of Literary Fiction. To be among them is special enough, but became even more so when my daughter reminded me of how many ebooks are out there. I don't know the figures for last year but I read that almost half a million were published in 2013 alone. That's a lot of competition."
'he & She' also took a 5-Star Silver Medal in the Readers' Favorite International Awards. In addition, Clark was chosen as a Finalist in the 2015 IAN Book of the Year Awards for general fiction, and as a winner in the 2015 Great Writers You Should Be Reading Awards.
A number of critics have praised the award-winning novel. BlueInk Review called it "… a stylish piece of literary fiction… intellectually engaging throughout. A finely drawn portrait of desire in its fall and winter seasons." A review on the IndieReader site stated that 'he & She' is, "A remarkable investigation of a man attempting to save himself from stagnation."
Wayne Clark is available for media interviews and can be reached using the information below or by email at mtl1642 [at] videotro [dot] ca. 'he & She' is available at Amazon in paperback and Kindle versions and in all other digital versions at all major online retailers. More information is available at his website at www.wayne-clark.com.
About Wayne Clark:
Award-winning author Wayne Clark was born in 1946 in Ottawa, Ont., but has called Montreal home since 1968. Woven through that time frame in no particular order have been interludes in Halifax, Toronto, Vancouver, Germany, Holland and Mexico.
By far the biggest slice in a pie chart of his career would be labeled journalism, including newspapers and magazines, as a reporter, editor and freelance writer. The other, smaller slices of the pie would also represent words in one form or another, in advertising as a copywriter and as a freelance translator. However, unquantifiable in a pie chart would be the slivers and shreds of time stolen over the years to write fiction.
Contact:
Wayne Clark
www.wayne-clark.com
mtl1642 [at] videotron [dot] ca